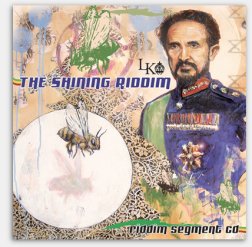 New CD and 7' releases this month by Lustre Kings Productions. The label presents The Shining Riddim that will be available on cd and as single in mid February. 17 artists from Virgin Islands and Jamaica on a roots riddim produced by Digital Ancient and King Corrin, including great vocal cuts from Pressure, Nyorah, Vaughn Benjamin, I Lue, Jah Mason, Lutan Fyah, Brother Culture and Al Pancho.
Originally recorded in 2004 when Lustre Kings was working on Lutan Fyah' Time and Place album for the song Fire In The Barn, the Californian label continued to record artists on it through the year and releases today the complete serie.
A classic Lustre Kings production with special guest Bongo Herman on percussions that should be one of their last riddim release as the label will now focus on solo artists albums and compilations.
1. Never Get Me Down - Jah Mason
2. Infinite Quality - Vaughn Benjamin
3. Draw Fi Mi Lighter - Lyrical, Dainjamentalz & Jah Dan
4. Fire Is Getting Redder - Pressure
5. War In The Projects - I Lue
6. Fruits Of The Earth - Army
7. Fire In The Barn - Lutan Fyah
8. Jah Law - Batch
9. Stress You Bare - Benjai
10. No Other Girl - Turbulence
11. Kick Up - Niyorah
12. In The Ghetto Streets - Abja
13. Nah Chat To Dem - Natty King
14. Dem Cant Escape - Ras Attitude
15. Praises - Brother Marcus
16. Bruk Yu Bread And Share - Al Pancho
17. What A Joy - Arkangel
18. Shining Version - Digital Ancient