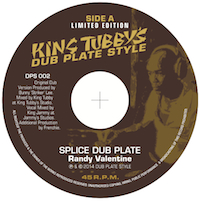 Super producer Frenchie from the UK has three new riddims up for release on his Maximum Sound imprint, a highly reliable source for some of the finest contemporary roots and dancehall.
Imperial and Jah Blessings are two original high voltageriddims with tough bass lines and moody keyboards. Vocals is provided by a number of top Jamaican artists, several being from the current roots revival movement, for example Dre Island, Jesse Royal, Addis Pablo, Exco Levi and Loyal Flames. But a number of more well-known artists also pop up – Luciano and Jah Cure, just to name two.
Then we have King Tubby's Dub Plate Style. A vintage riddim and a cut to Bunny Lee's Ali Baba riddim, voiced by John Holt and probably a few others too. This riddim comes with vocals by Gappy Ranks, Randy Valentine, Ras Demo, Captain Sinbad and Tony Curtis.
They are all coming out in early June on 7" and digital download. Check the promo mixes over at Youtube.