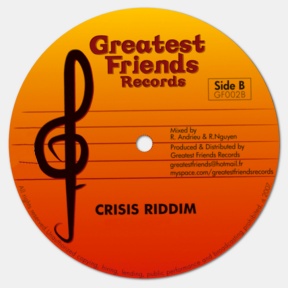 New riddim on French Greatest Friends Records with the release in January of the Crisis Riddim.
This modern roots serie features vocal cuts by Ras Mac Bean on Row Your Boat, Zion Irie and David Hinds from Steel Pulse on Music Is Fire, Roger Banton on Crisis and Prince Theo on Faya Bun Dem.
Four songs accompanied by the instrumental version, available on three 7''.