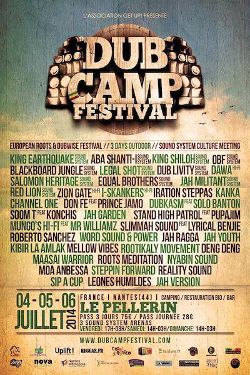 The first edition of Dub Camp festival will take place in early July. For the first time the French Association Get Up has organized a festival dedicated to the culture of sound system. Dub Camp is to be held near the city of Nantes at Le Pellerin.
This outdoor festival will take place over 3 days, from the 4th of July to the 6th with no less than 14 sound systems on site.
During these 3 days, the most famous names of European Dub will be present, to name a few : King Earthquake, Aba shanti, King Shiloh, Blackboard Jungle, Iration Steppas, Word Sound & Power, Massai Warrior, Kibir La Amlak, Channel One, Mungo's Hi-Fi.
There will also be many French dubmakers and many collectives of the French dub scene: I-Skankers, Kanka, Dawa Hifi, Stand High Patrol feat Pupajim, OBF.
There will be three outdoor areas with the aforementioned 14 sounds. A festival with a line-up that promises to be explosive, to the soundtrack of only 100% homemade Sound System.