Israel's Zvuloon Dub System have been making their name as a recording unit and through strong singles backing veterans Cornel Campbell and the Viceroys.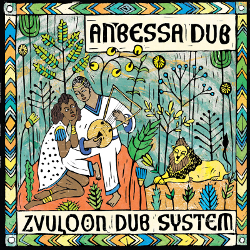 Their second album expands on the classic 70s roots sound of 2012 debut Freedom Time. Anbessa Dub is an all-analogue seamless fusion of roots reggae with vintage Ethiopian music – drawing on drummer/producer Asaf Smilan's love of the pre coup golden era and singer Gilli Yalo's own Ethiopian heritage.
Yalo left Ethiopia as a toddler and literally walked through Sudan to Israel with his family. He joined Zvuloon as frontman in 2009.
"When Haile Selassie… visited Jamaica on April 21, 1966… the two countries came together" says the press release. "18 years later, in 1984, an Ethiopian Jewish family, members of the lost tribe of Israel, walked across the desert, making the long trek to their homeland. And now those three cultures – Jamaica, Ethiopia, and Israel - merge".
"It's a natural mix," says Smilan. "I'd also loved that old Ethiopian music since I first heard it, about 10 or 15 years ago, but I didn't have any Ethiopian friends to discover more about it. Then Gili Yalo joined… And once he came, everything changed."
Produced independently and financed via crowd-funding site Headstart the album assembles original compositions with covers of Ethiopian standards, sung in Amharic and Tigrinya. Guests include Ethiopian legend Mahmoud Ahmed, Zemene Yelesse, vocalist and krar player Yacov Lilay and masinko player by Dejen Manchelot.
Anbessa Dub is released internationally July 1st on cd, vinyl and for digital download. It's available now direct from the band at zvuloondubsystem.bandcamp.com.