Deejaying drummer Horseman and producer Prince Fatty release their long awaited album together, Dawn of the Dread, at the start of November.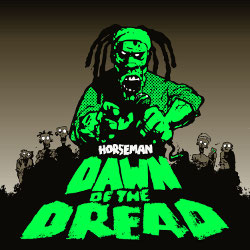 Horseman, a former member of the group Reggae Regular, has been an in demand session drummer for decades. He has guested as a vocalist on many of Prince Fatty's records - most notably the self-titled debut by punk progeny Hollie Cook.
Dawn of the Dread was recorded in Thailand and mixed at Fatty's Ironworks studio in Brighton. It represents a departure from the analogue sounds of previous Fatty projects - having a digital dancehall vibe.
"If my music brings joy into someone's life then that's my aim, it's there to make people happy" Horseman explains in the press release, "I'm not in competition with anyone, music shouldn't be competitive, I'm just me doing my thing".
According to Fatty this will be his final album for label Mr Bongo before striking out on his own.
Dawn of the Dread walks the streets from November 3rd on LP, CD and for digital download.