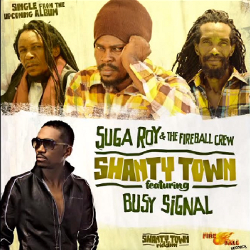 In their classic 1967 song, 007 (Shanty Town), Desmond Dekker and The Aces sang about turmoil among rude boys in Kingston's ghettos.
Recently, deejay Suga Roy covered the song in tandem with fellow toaster Busy Signal and singers Zareb and Conrad Crystal.
Their version, titled Shanty Town, has taken off on Jamaican radio. For its video directed by Dameon Gayle, Suga Roy wanted to capture the essence of what Dekker wrote about nearly 50 years ago.
"Wi had to do it in the ghetto 'cause dat's what the original (song) talking 'bout...rude boys an' whole lotta shooting. So wi went downtown Kingston an' di youths came out an' enjoy themself," said Suga Roy.
The lanky Suga Roy first heard Dekker and The Aces' Leslie Kong-produced version eight years ago. He was encouraged to cover it by an African friend in Switzerland.
With Austrian band House Of Riddim providing the music, he produced Shanty Town for his Fireball Records. Cheating, a song by singer Dasia, is also on the 'riddim'.
Featuring Trinidadian guitarist Lynn Taitt, Dekker and The Aces' version was a hit in the United Kingdom and Europe.
It is also part of The Harder They Come soundtrack.