Since he started recording 40 years ago, Keithus I has shun commercialism while putting the message of Rastafari at the forefront of his music.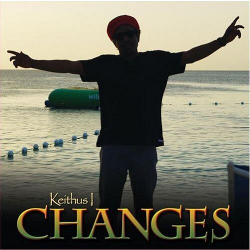 The Hartford, Connecticut-based singer has never wavered from that policy which is evident on Changes, his second album which was released on November 20 by Jah Dynasty Productions and distributed by VP Records.
"Publishers promote their craft for capitol interest and influences people likewise to follow and so it has been from the mid-80s. But as Bob Marley said, 'you can fool some people sometime but you can't fool all the people all the time', so now people want truth, and Jah rises his troops with messages of truth and rights with heartbeat sounds of the '70s," said Keithus I.
Though Changes is inspired by the sounds of the 1970s, Keithus I embraces a new generation of roots-reggae by working with singjay Jesse Royal on the song, System Set. He also collaborates with singer Leba Hibbert on Traditional Affairs.
Keithus I, whose real name is Milton Samuels, is a videographer by profession. But he has never strayed from making music. Three years ago, the Kingston-born artiste released his first album, Then And Now. He got into music shortly after his days as a footballer ended.
His first song was Red Hot, done in 1975 with three members (Aston 'Familyman' Barrett, Carlton Barrett and Tyrone Downie) of Marley's Wailers band playing on it. Technology may have transformed its sound, but for Keithus I, the message of roots-reggae has never changed. "I am driven to do music for world peace and love, and it gives me a great thrill to see players of instruments and singers come together to create music with substance," he said.