In the 1980s when he wrote songs for himself and artistes like Dennis Brown and Gregory Isaacs, Hopeton Lindo was nicknamed 'The Pen' by colleagues.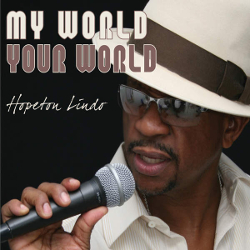 This year, the singer spent most of his time composing songs for My World Your World, his fourth album, which was released in September.
"Its my statement looking at what's going on in the world. With all the foolishness, I had to do an album like this," said Lindo.
My World Your World contains two versions of the title song. The original, done with Dennis Brown and Luciano, was released four years ago. The second is a ballad remix with Brown, Luciano and saxophonist Dean Fraser.
Lindo wrote or co-wrote 14 of the album's 16 tracks including Turf (with Anthony B) and In The Mood, a duet with South Florida singer Fiona. He also does a version of his Red Rose For Gregory, a song made popular in 1988 by Gregory Isaacs. There are two covers: Al Green's Let's Stay Together and the John Lennon standard, Imagine.
Hopeton Lindo is best known for the hit song, Territory, a dancehall favourite that was embraced by Jamaica's Reggae Boyz football team on their historic qualification for the 1998 World Cup in France. He has written a number of hit songs such as Champion Lover by Deborahe Glasgow, Telephone Love by JC Lodge and Raggamuffin for Dennis Brown and Freddie McGregor.