With his in-your-face delivery and hard-hitting songs like Hail The King, Fantan Mojah would have been at home in the Rockers era of the late 1970s.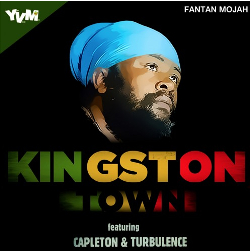 Recognising this, emerging Jamaican music company, Young Veterans, teamed with the burly singer on Kingston Town, his latest song featuring Capleton and Turbulence.
Sheldon Pennicott, a member of Young Veterans, said he and his colleagues deliberately went for the militant sound made famous by singers like Jacob Miller and musicians such as drummer Leroy 'Horsemouth' Wallace.
"I have always been a fan of the Rockers era because of its unique sound with the big bass lines, heavy reverbs and magnetic horn sections. Because of the success of dub-step music, our label decided to produce a record using the same dynamic sound," he explained.
Bass player Chris Meredith, guitarist Leroy 'Badness' Pennicott and trumpeter Vivian Scott are some of the musicians who played on Kingston Town which looks at the gritty nature of Jamaica's capital.
Fantan Mojah has made a name in hardcore roots circles through songs like Hail the King and Hungry which have earned him a following in Europe and parts of Africa.
Kingston Town will be part of a new Fantan Mojah album, scheduled for release early this year.