Because he started his sound system career as a teenager during the 1950s, Winston 'Merritone' Blake saw the evolution of Jamaica's popular music up front.
Blake, who died at age 75 in Kingston on February 27, was an authority on all forms of popular music.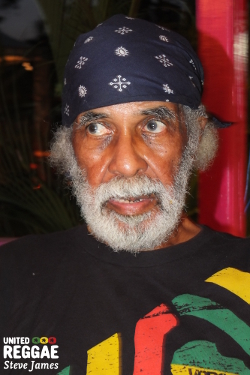 Along with his brothers, Trevor, Tyrone and Monty, he made the Merritone sound system an household name in Jamaica.
He was a soul man at heart, but helped expose ska and rocksteady through the popular sound system his father Val started in 1950.
Blake became an elder statesman of the sound system movement in recent years. His signature bandana wrapped around his head, he was always willing to share his knowledge with the new generation of 'sound men'.
Kingsley Goodison is promoter of the annual Tribute To The Greats Show which honours reggae's stalwarts. Blake and the Merritone family were recognised by his organisation in 2007.
According to Goodison, though Merritone was a contemporary of sound systems like Tom The Great Sebastian and Duke Reid's Trojan, it never made a mark in Jamaica's capital until the early 1960s.
"They were so impressive with their mix of soul music and Jamaican music, they became in demand throughout Kingston. They played the top clubs like Little Copa, Peyton Place and the Glassbucket."
Blake produced a number of songs. He was involved in the 1965 production of Hopeton Lewis' Take it Easy, regarded as the first rocksteady song.
His talent shows of the early 1970s helped launch the careers of Beres Hammond and his wife Cynthia Schloss.
In 1974, the Blakes' hip Turntable Club in Kingston hosted a live concert featuring 17-year-old Dennis Brown and the Soul Syndicate Band. The show was released in 1975 as an album, Live At The Turntable Club, and reissued by VP Records in 2012.
In the last 20 years, Winston Blake became a sought-after figure for books on reggae's history by authors like American David Katz.
After suffering a stroke in January, he was rarely seen in public.
He will be cremated. A thanksgiving service for his life is scheduled for April 2 in Kingston.