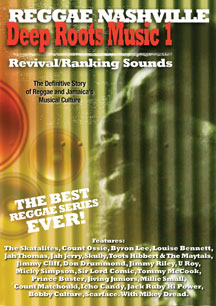 Deep Roots Music part 1, this DVD consists of the first two parts of a six part series and features never-before-seen archive footage in addition to interviews with cultural historians, folklorists and musicologists. Also featured are performances by The Skatalites, Toots & The Maytals, Jimmy Cliff, Count Ossie, Byron Lee, and many many more.
Part 1 - Revival examines the evolution of African music and its influence on culture and the formation of new styles, like ska.
Part 2 - Ranking Sounds reveals the origins of deejaying and toasting with an exemplary live performance of a Jamaican sound-system. This thorough series serves as the ultimate authority on reggae history!
Video
Video: Deep Roots Music 1 - Revival