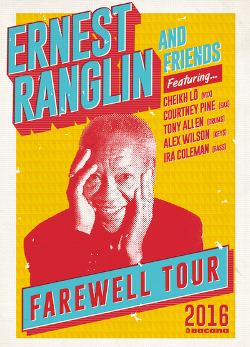 After 6 decades in music, Jamaican guitarist Ernest Ranglin has decided to retire from stage shows at the age of 83.
As a thank you to his fans he has announced a farewell world tour.
He will be joined by Nigerian drummer Tony Allen, UK saxophonist Courtney Pine, US bassist Ira Coleman, UK pianist Alex Wilson and Senegalese singer Cheikh Lo.
Ranglin was instrumental in the birth of ska as well as being one of the world's most respected jazz players.
You can read more about his career in this United Reggae interview from 2012.
Confirmed dates include
27.05 Morocco - Rabat/Mawazine
25.06 UK - Glastonbury/Festival
26.06 UK - Canterbury/Marlowe Theatre
27.06 UK - London/Barbican Center
28.06 UK - Basingstoke/The Anvil
01.07 UK - Bristol/Colston Hall
02.07 France - Lyon/Festival Ile Utopie
08.07 Germany - Berlin/Wassermusik Festival @ House of World Cultures
09.07 Slovakia - Pohoda/Pohoda Festival
13.07 Switzerland - Montreux/Montreux Jazz Festival
20.07 Turkey - Istanbul/Jazz Festival
24.07 Japan - Fuji Rock
28.07 Netherlands - Rotterdam/Parkpop
29.07 Germany - Lörrach/Stimmen Festival
30.07 Austria - Krems/Glatt & Verkehrt
21.08 Norway - Oslo/Mela Festival
31.08 France - Paris/La Vilette Jazz
03.09 Finland - Helsinki/Helsinki Festival