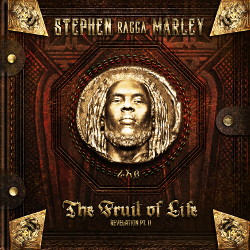 Stephen Marley – son of Bob Marley as well as a multiple Grammy-winning singer-songwriter, multi-instrumentalist and acclaimed reggae producer – is set to release his long-awaited fourth studio album Revelation Part II: The Fruit of Life, the follow-up to Revelation Part I: The Root of Life, which was put out in 2011.
Whereas The Root of Life was more a traditional roots reggae album, The Fruit of Life is described as "a diversified sonic palette to express the far-reaching impact Jamaican music has had on various genres, especially hip hop". The album is produced by Stephen Marley himself and has been preceded by tracks like Rock Stone, with Sizzla and Capleton, and Ghetto Boy, with Mad Cobra and Bounty Killer.
The Fruit of Life boasts 18 new tracks and features a variety of guest collaborations, including a number of hip-hop artists, for example Rick Ross, Pit Bull, Waka Flocka, Dead Prez, Rakim, DJ Khaled, Busta Rhymes, Wyclef Jean and Black Thought of The Roots. It also features reggae greats like Damian Marley and Shaggy.
Revelation Part II: The Fruit of Life drops on July 22 and can be pre-ordered already on May 27 with a number of gratifications.