Besieged by legal problems in Jamaica, Gothic deejay Tommy Lee Sparta heads to his happy hunting ground of Europe in October for a series of shows.
The multi-tatooed artiste, known for songs such as Uncle Demon and Pat It Up, is scheduled to kick off the two-week trek with a show in Stockholm, Sweden on October 15.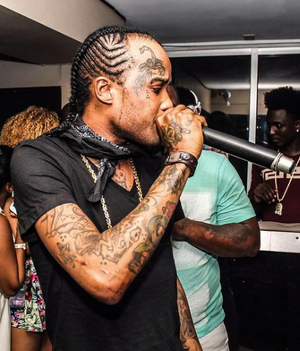 He will also perform club dates in Belgium, The Netherlands, Finland, Austria, Germany, Switzerland and France. He closes on October 29 in Paris.
"Mi a go Europe now fi five year, sometime twice fi the year. Every time it get bigger; more people drawn to the thing," said Tommy Lee Sparta prior to a recent recording session in Kingston.
While in Europe, he plans to promote some of his new songs including Redemption Song and Spartan Party, as well as work with hot reggae/dancehall acts like 876 out of Germany.
Europeans are traditionally more appreciative of roots-reggae acts like Burning Spear, Culture and The Congos, but the last five years has seen artistes like Vybz Kartel, I-Octane, Busy Signal, Konshens and Alkaline appealing to younger fans.
Tommy Lee Sparta has had his share of run-ins with Jamaican law enforcement who have investigated him for crimes in his native Montego Bay.