One of the most successful camps in reggae during the 1990s was producer Philip 'Fatis' Burrell's Xterminator label. Deejay Jesse Jendah may not have been as popular as its flagship artistes Luciano and Sizzla, but he was certainly the most fiery.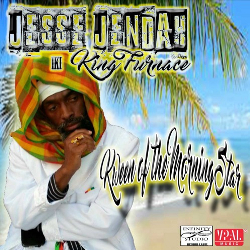 Managed by Mightyful13 Records and based in the United States, Jendah is still active. Recently, he released Kween Of The Morning Star, a lovers rock song produced by California-based Infinity Records and distributed by VPAL Records.
While not much has been heard of him in mainstream circles, he maintains a hectic recording regimen. Since 2011, he has released an album annually as well as songs such as Luv Rasta, Reparation, Sip Cup, Hempress Of The Nile and Girls Scout Kookie.
Jendah (also known as King Furnace) is a firebrand in the mould of Peter Tosh. Like Tosh, he is un-apologetic advocate for black consciousness and the legalization of marijuana.
He shares another similarity with the former Wailer. His statements are punctuated by colourful slangs; that was evident when asked why he has been so low-key.
"Mystical is I middle name, so I never stay low... the type of fire I burn (is) against the international banksters n gangsters who suffer the entire Earth through the IMF World Bank which is 'fundead' by their mother Bank of International Settlement in Basel, Switzerland. I is the sun of the Mystic Man, the Honourable Peter Tosh," he declared.
Jendah was born in Vere, Clarendon, a rural parish that was once Jamaica's leading producer of sugar. While he began recording in the 1980s, his studio output picked up during the 1990s when he was part of Xterminator, led by the robust Burrell, who died in 2011.
Missa Prime Minister and Ready Ghetto Youth (with Sizzla) are among the hard-hitting songs Jendah cut for Xterminator. At the time, there was a vibrant neo-roots movement in reggae that included Sizzla, Luciano, Capleton, Tony Rebel and Garnett Silk.
There is a similar wave in contemporary reggae, inspired by artistes like Chronixx, Kabaka Pyramid and Jesse Royal. Jendah has advice for them. "Suns of Rastafari always blazing. I will teach dem this... get to the furnace level," he said.