Fashion has always been a big part of urban music, dancehall being no exception.
Kengo and Tomoko Fukai, a husband and wife from Japan, thought using dancehall's biggest artistes to market their AnSWeR clothing line would be perfect. That association is portrayed in HARDEST, a magazine they produced to celebrate the 10th anniversary of their product.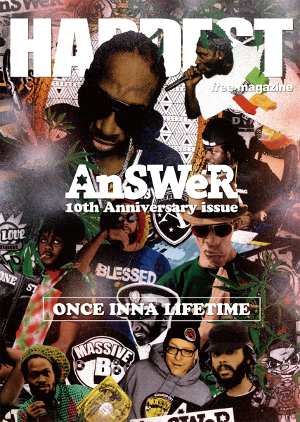 HARDEST contains over 50 photographs of artistes including Bounty Killer, Sizzla and Freddie McGregor; sound system selector Rory 'Stone Love' Gilligan and producer Lloyd 'King Jammys' James. All are in AnSWeR wear.
According to Kengo, it was Gilligan who encouraged he and his wife to use dancehall's finest to promote their clothes. "Jamaicans wearing AnSWeR clothes sometimes this give us good effect and sometimes we get no effect, but we don't care how big the effect is. We fell in love with reggae, dancehall, roots, dub and Jamaican culture before we started the AnSWeR clothes business," he said.
The Fukais are from Osaka, traditionally one of Japan's strongest reggae markets. They create and manufacture AnSWeR T-shirts, shirts and merinos from their hometown.
Kengo said Osaka, Tokyo, Nagoyo and Yokohama are cities where AnSWeR's line of clothing is most popular. Japan emerged as one of dancehall/reggae's most vibrant centres during the 1980s. The JapanSplash festival drew huge audiences in major cities such as Tokyo and Osaka and allowed artistes like Sugar Minott, Tenor Saw and Yami Bolo to establish solid fan bases there.
That craze has simmered somewhat in the last 10 years but Kengo sees signs that the music is picking up again. "Last year Marcia Griffiths, Chronixx, Rory Stone Love, Massive B sound from New York came to Japan and this year Stone Love Japan Tour will start in April. I'm sure that the music movement in Japan is getting better," he said.