Though he was born in the United Kingdom, singer Emmanuel Anebsa rejects his British tag. On his new EP, Black People, he projects the Afro-consciousness first embraced in his youth.
To make a statement with his latest project, Anebsa visited Jamaica where he recorded the four-song Black People at fabled Tuff Gong studio with veteran session players Earl 'Chinna' Smith, keyboardist Robbie Lyn and bassist Chris Meredith.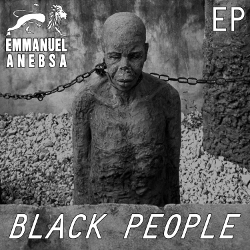 Anebsa produced the four songs on the mini-set which was released in February by his Wontstop Records.
He shot some of the scenes for Black People's video in key areas of Kingston, the Jamaica capital.
"We filmed the video in Stony Hill, Half Way Tree, Matches (Matthews) Lane and Coronation Market (downtown Kingston). We will only record reggae music in Jamaica because I want the best for the music," he said. "Reggae music was created from the ghetto and the pain of oppression so when we play it back and record it, it has to come from the root."
Anebsa, 47, was born Steven Emmanuel Wilks in St. Pauls, a tough area in the city of Bristol. He later changed his name to "release myself from Babylon bondage."
The lanky Anebsa has experienced some oppression, in his hometown. His Jamaican father Bertram operated the Black and White cafe, a Bristol hangout spot for militants during the 1970s and 1980s.
The venue was constantly raided by police, which he argues were racially motivated. After years of invasions, the 'Black and White' closed in 2004.
It was there that Anebsa saw reggae greats like U-Roy and Big Youth, as well as dancehall stars Papa Toyan, Eek-A-Mouse and Peter Metro.
Over the years, Anebsa estimates he has recorded over 30 albums, all independently produced. Black People, done to classic reggae rhythms, is his most focused project.
One Woman, This Is Love and Can't Take No More are the other songs on Black People.