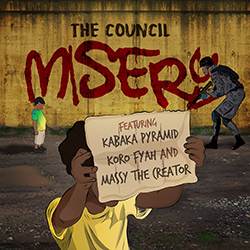 While they will soon drop their first album Nothing Else Matters, Jamaican Hip-Hop collective The Council just released the single Misery. It is produced by Inztinkz and featuring Kabaka Pyramid, Koro Fyah and Massy the Creator.
"This song is just another realm of what we have to offer on Nothing Else Matters, thematically and sonically," says Inztinkz. "Compared to our last single, this is like a flipside."
Starting with Council Arts in September 2015, The Council released a series of singles including The Final Countdown, Valhalla Doctrine (featuring Tha God Fahim), and the most recent one, Promised Land (featuring J Militia), in March of this year. The Council is composed of Inztinkz, The Sickest Drama, Nomad Carlos and Five Steez.
Nothing Else Matters will be available on September 29th, 2017.