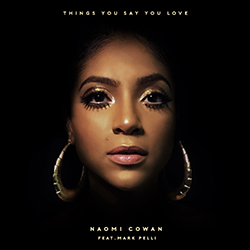 Naomi Cowan is the daughter of Canadian-Jamaican singer Carlene Davis-Cowan and the Jamaican reggae artist producer Tommy Cowan. She is a multi-disciplinary artist, has worked as a vocalist, songwriter, media producer and television presenter for over 10 years. She is also an Ambassador & Mentor for the 'We Transform JA' Youth empowerment & reintegration programme by the Ministry of National Security.
In 2014, Naomi Cowan released her first single Naked, an inspirational alternative pop track. Three years later she comes back with a new single, Things You Say You Love, a tribute to reggae music.
The song was originally co-written by Tommy Cowan & Norris Weir and released by The Jamaicans in 1967. 2017 marks the 50th year since the release of this reggae song.
Things you Say You Love is available for download on all digital plateforms.