Most days if you want to find Earl 'Chinna' Smith, you can head to his home at St. Andrew Park, a quiet middle-class neighborhood in Kingston, the Jamaica capital.
The legendary guitarist, also known as Melchizedek, usually holds centerstage. He's either smoking a ganja chalice, jamming with anyone willing to hold an instrument, or discussing music.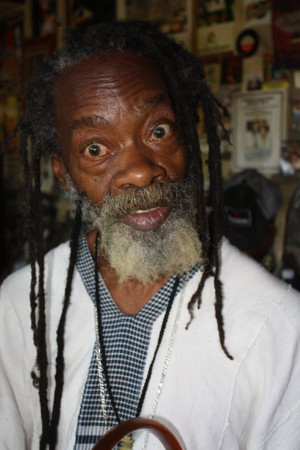 In 2018, the prolific Smith celebrates his 50th year in the music business, a remarkable feat considering he is just 62 years old. His distinctive feel can be heard on countless songs by Bob Marley, Dennis Brown, Bunny Wailer, Burning Spear, Lauryn Hill and Amy Winehouse.
Worn by years of touring, Smith is not keen on going on the road, only if the offer is right, and challenging.
"The truth? Mi prefer stay home an' play mi acoustic (guitar), that gimme di most joy," he said.
Smith has not disclosed any plans to commemorate his golden anniversary, but hopes to mark the milestone with something special. Possibly a show featuring some of the countless artistes he has worked with.
"Is a wait an' see thing, something like dis yuh cyaan rush. Wi waan mek it as 'binghi' as possible," he said.
Binghi' refers to the Nyahbinghi order Smith has practiced since the 1970s. Its 'churchical' chanter's sound is the backdrop for several of his recent work, notably the Inna De Yard acoustic series featuring top acts like The Congos, Junior Murvin and The Mighty Diamonds.
That series did well in France where Smith and a band toured six years ago. This year the remaining Inna de Yard members released 2 new albums and made some shows in Europe.
Smith is from Greenwich Farm, once a sleepy fishing village near West Kingston. As a boy, he was immersed in the community's sound system culture and saw singers like Slim Smith, Pat Kelly and John Holt passing through there regularly to hang with producer Bunny Lee, his godfather.
Greenwich Farm was also the base for the Soul Syndicate Band which he joined as a schoolboy. Though the first song of note he played on was Augustus Pablo's exotic instrumental Java, he made his name with the 'Syndicate' in the early 1970s.
Some of Smith's best early work was with Dennis Brown. That's him on songs like Westbound Train, No More Will I Roam and Cassandra.
He went on to play on Burning Spear's seminal Marcus Garvey album; a host of hits by Johnny Clarke (Move Outa Babylon, Rock With Me Baby and African Roots); Jacob Miller (Suzie Wong, Keep On Knocking) and Rod Taylor (His Imperial Majesty).
He also played on Marley's Rastaman Vibration album, recorded and toured with Cliff and was once musical director for Ziggy Marley and The Melody Makers.
Smith rarely flaunts his lofty resume. He embraces reggae's upcoming roots acts, many of whom hang out at his home to jam or catch up on his vast knowledge of guitar and music.
He counts his time recording and touring with Marley as a career high point.
"Bob was the greatest shepherd, we as youth used to jus' sit an' learn from him an' the elders. That's the order mi come off, the Bob Marley way," he said.
Earl 'Chinna' Smith plans to announce a calendar of events marking his 50th anniversary in the music business early in 2018.