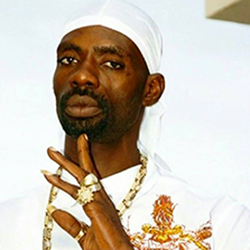 Ninjaman, one of the dancehall's most controversial figures, was sentenced to life imprisonment in Kingston, Jamaica on December 18. He was sentenced in the Home Circuit Court for the March, 2009 murder of Ricardo Johnson.
The flamboyant toaster will serve 25 years in prison before he is eligible for parole. He was given 20 years for shooting with intent and life imprisonment for murder.
After hearing his sentence, Ninjaman gave the thumbs-up sign. His son Jahneil and Dennis Clayton, who were also charged with Johnson's murder, also received life sentences. They will be eligible for parole after serving 15 years.
They were found guilty on November 20 and were scheduled to be sentenced on December 15, but Clayton's lawyer was late for court.
According to police reports, Ninjaman, Jahneil and Clayton entered a yard in the tough Olympic Gardens community of Kingston on March 16, 2009. They fired shots at a man who fled, but 20-year-old Johnson was fatally shot during the skirmish.

Ninjaman, 51, was remanded in custody for three years before being granted bail in 2012. He signed to Downsound Records and became the label's flagship act, but parted ways with the company in 2015.
On October 17, Ninjaman was taken into custody after his bail was revoked and a trial for he and his co-accused ordered to start.
Ninjaman, whose real name is Desmond Ballentine, came to national prominence during the mid-1980s. He gained notoriety for his violent lyrics on songs like Border Clash, but also had mainstream success with Protection and Cover Me, which he did with singer Tinga Stewart.
He is the second high-profile dancehall act to receive a lengthy prison sentence in recent years. In 2014, Vybz Kartel was sentenced to life in prison for murder.

Ninjaman's attorney, Valerie Neita-Robertson, says he will appeal the sentence.