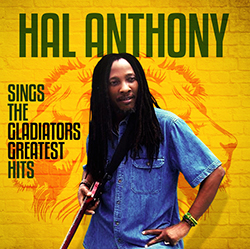 As rhythm guitarist for the Millennium Band, Hal Anthony has backed some of the biggest reggae acts when they perform in South Florida. But when he was approached to take over as lead singer for The Gladiators, Anthony admits he knew little about the journeyman roots band.
After plans for him to replace ailing founder and singer Albert Griffiths fell through, The Gladiators keyboardist Vernon Sutherland suggested he do a tribute album to the band, best known for songs like Hello Carol and Bongo Red.
He agreed, and last year released Hal Anthony Sings The Gladiators Greatest Hits.
"Vernon gave me the idea to sing these songs. He sent me some tracks and I choose 12 of the songs that I took to Willie Lindo and his son Kashief Lindo and we put the album together," Anthony explained.
Among the songs Anthony covered were Hello Carol, The Gladiators' first hit from 1968; Bongo Red, and Roots Natty, which remain show-stoppers for the veteran band.
The album was produced by Lindo, an accomplished session guitarist from the 1970s whose production credits include Dennis Brown's Inseparable album, Beres Hammond's 1985 comeback hit She Loves Me Now, and I Wanna Wake Up With You, a British number one for Boris Gardiner.
Anthony was familiar with The Gladiators catalogue after auditioning for them two years ago. He had a clear game plan going into the sessions with Lindo. "I did not do or try to do anything different with the originals, all I did was just add my voice because they are great songs. Nuff Raspect to Albert Griffiths," he said.
With production complete, Anthony said the next step is promoting 'The Gladiators Greatest Hits'. "It's all over social media, I went to London where I did some promotion, and I am in the process of working on Europe, South America and the Caribbean."
The Gladiators have established themselves as one of the top reggae acts in Europe, touring that continent relentlessly for over 30 years. They were led by the charismatic Griffiths who formed the band while working as a session musician at Studio One in the late 1960s.
A debilitating illness caused Griffiths to retire from recording and touring several years ago. A band known as The Gladiators Featuring Droop Lion, still tours Europe and North America.
Like Griffiths, Anthony is from rural Jamaica but moved to the capital Kingston in his teens. He was a student at the University of the West Indies but dropped out during his second semester to take up music professionally.
Initially, he recorded for producers Joe Gibbs and Lloyd "King Jammys" James. For a while, he was a member of The Beltones, best known for the hit song No More Heartaches. Since the 1980s, Hal Anthony has lived in South Florida, home to a large Jamaican community. He is founder of the Millennium Band, which has backed artistes such as Freddie McGregor, Tarrus Riley, Lady Saw, Glen Washington and Sanchez.