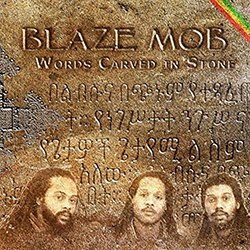 Before migrating to the United States in the late 1980s, brothers Shaka "Rock", Gyasi "Gong" and Saeed Dennis got a healthy serving of their father's Rastafarian lifestyle and Jamaican culture. It shaped their views as persons and musicians.
That 'livity' is evident on Words Carved In Stone, their second album, which was released on March 5. It is one of the strongest collections of roots-reggae by an upcoming group in some time.
The 16-song set is a blend of old school and contemporary sounds that appeals to a diverse demographic. Shaka, the eldest, handles most of the lead vocals and plays drums. He said while he and his brothers have matured since the release of their first album eight years ago, the universal message of one love remains.
"That whole process of putting the album together in foundational format is most different from the last album but the message remains the same; more consciousness," he explained.
Since the release of More Consciousness, their first album, Blaze Mob has worked the United States West Coast reggae festival scene. Shaka credits the extensive roadwork for growth on Words Carved In Stone which draws from the vaults of one of Jamaica's greatest studios.
"Our producers allowed us to venture into the Channel One archives and create musical vibrations on classic Jamaican productions," he said.
The vaunted sound of Channel One house band, The Revolutionaries, can be heard on No Bad Dealings, Standing Tall, Waste No Time and Let Us All Unite.
Franklyn Irving, who produced those songs, was a regular at Channel One during the 1970s when those tracks were laid by musicians like Sly Dunbar and Ranchie McLean. He thought they would be perfect for the earthy vocals of Blaze Mob, who also collaborated with Micah Shemaiah, Alex Marley and Asadenaki (son of Bunny Wailer) on the project.
The Dennis brothers are sons of Garth Dennis, a member of the Wailing Souls and Black Uhuru. After learning the rudiments of roots-reggae in Jamaica, they developed their musical chops opening for noted acts like Steel Pulse, Israel Vibration, Don Carlos and Niney The Observer, mainly in California, which has an active reggae live scene.
They intend to aggressively promote Words Carved In Stone for the rest of 2018.
"We want to push this project on all aspects and take on any opportunities that it provides. We are independent so we will continue to use social medial and all the other platforms to get the music and the name Blaze Mob out to the world," said Shaka.