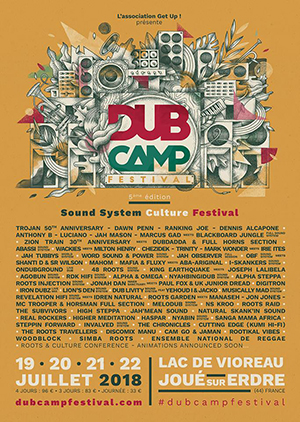 For its 5th edition, the Dub Camp Festival will take place from July 19th to 22nd at Vioreau lake in Joué-Sur-Erdre, France.
This year the line-up focuses on labels and producers from the reggae/dub genres.
The British label Trojan Records will celebrate its 50th anniversary with Jamaican singer Dawn Penn and the Jamaican deejays Dennis Alcapone and Ranking Joe. The British collective Zion Train also celebrate their 30th anniversary.
Dub Camp Festival will also welcome Jonah Dan with the singers Paul Fox and UK Junior Dread. Mark Wonder, Chezidek and Trinity will appear with French label Irie Ites. Anthony B, Jah Mason, Luciano and Marcus Gad will accompany Blackboard Jungle Full Sound System. Also appearing are The Roots Travelers. producers Mafia & Fluxy, Mahom, Roots Raid, The Subvivors and Ondubground from French label ODG. Travelling sound systems will include Germany's Lion's Den, Italy's 48 Roots and from France, I-Skankers, Musically Mad, Melodub, Invalved, Word Sound & Power with Robert Tribulation and many more.
Dub Camp Festival is a member of the network Eco-evenement. This means the festival include a waste stage, local biological food, and smart energy management. In addtion they garantee that the festival is accessible to everyone.
For more information on the 5th Dub Camp Festival visit www.dubcampfestival.com