The Marley family takes their message of roots-reggae and marijuana to Southern California on April 28-29 where the second Kaya Fest will be held.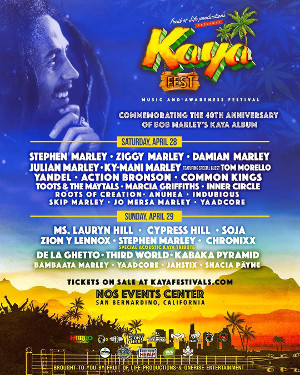 Last year's inaugural show took place in Miami, Florida. This weekend, Kaya Fest is at Nos Events Center in San Bernardino, with the Marley brothers, Ziggy, Stephen, Ky-Mani, Julian and Damian as headliners.
Stephen Marley says Kaya Fest's objectives this year are two-fold. "We are commemorating the 40th anniversary of the Kaya album and promoting awareness for the healing of the herb," he said.
Kaya is his father Bob Marley's 1978 album which was released by Island Records. On the title song and Easy Skanking, he hailed the spiritual virtues of marijuana, known in Jamaica as ganja.
A cross-genre cast will perform at Kaya Fest. Reggae is represented by Toots Hibbert, Inner Circle, Kabaka Pyramid, Third World, SOJA, Common Kings and Chronixx.
Rap group Cypress Hill and Lauryn Hill will also perform.
In 2016, the Marley family launched Marley Natural, a line of ganja products. Damian Marley is part of a team that recently purchased a former prison in Northern California where they will cultivate ganja.
California is arguably the most liberal of the 50 States in the US when it comes to marijuana use. Oregon, Colorado and Washington also have laws that tolerate open use of the plant.