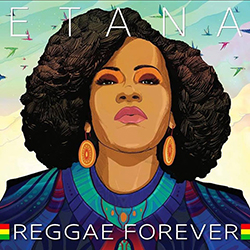 Etana is scheduled to officially launch her album, Reggae Forever, in South Florida on July 8. It takes place shortly before she heads out for dates in the United States and Europe.
Her fifth album, Reggae Forever was released in March by Tad's International Record, shortly before the 34-year-old singer went on a 38-show tour of the United States with Hawaiian reggae star J Boog and roots singer Jesse Royal.
This time, Reggae Forever's vinyl edition will also be unveiled.
"I am very excited about the vinyl release. I was the only artist on the last tour without vinyl. The vinyl is special because it's a collector's item," said Etana.
With vinyl the most resurgent medium in the music business, many reggae acts have released albums in that format, especially in Europe where there is a thriving market. The 13-song set was released four years after I Rise, her previous album, which was promoted by VP Records. That record was produced by veteran Clive Hunt, but this time Etana called the shots on some of the songs, along with Kirk "Kirkledove" Bennett and DJ Frass, two of the dancehall's hottest producers.
Like I Rise, Reggae Forever debuted at number one on the Billboard Reggae Album Chart, a rare feat for a female artiste.
"I am pleased with the response from everyone I encounter who has heard the album. It's the first album I have produced on my own. It's the first album that I own the masters for, (so) I am very excited, and I love the fact that they can feel, hear and see all the hard word work it took to complete this album," she said.
The second phase of touring for Reggae Forever begins on July 6 in Atlanta, Georgia, with another show in Wilmington, North Carolina the next day.
A handful of gigs in the US follows before Etana and her band head to Europe for shows in the United Kingdom and Belgium. She is looking forward to playing solo after sharing the bill with other acts.
"I enjoyed working with J Boog and his team. I got to know Jessie a Royal a little more as well. Most importantly, I was able to expand my audience," she said, adding: "I don't feel that the slot given was ideal, because some of my fans were not happy that I performed before they arrived or for too short of a time. The fact that I played early on most of the dates and for a short time, that allowed me to return to some of the same markets at a later date in this year, to do my own set of 90 minutes."