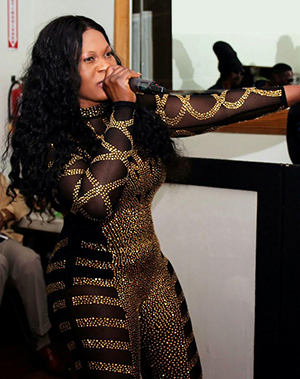 In the video to Bring Back Di Love, Junie Ranks' 2011 song, the veteran deejay is greeted in the opening scene by singers Michael Palmer and Al Campbell. They are just two of the artists she salutes on the track, produced by Ed Robinson.
The sassy Ranks has recorded a number of songs since that comeback effort seven years ago, most of them for Robinson, a veteran of the New York dancehall/reggae scene. Her latest song, Give You My Loving, is the most successful of those collaborations; it is riding high on Disc Jockey Clinton Lindsay's influential Foundation Network chart in South Florida. Junie Ranks, who is in her early 50s, never misses a moment to bless her contemporaries from the 1980s.
"Everyone a wi used to dey a studio jus' a hang out an' wait pon producer fi hear wi. Wi use to deejay fi producer pon di spot, is not like today when yuh post everything pon social media," she recalled.
A spontaneous audition with producer Winston Riley gave Junie Ranks her break 34 years ago. She did an impromptu performance for him at his Techniques studio and he was so impressed he pointed her to the recording booth where she recorded Counteraction, her first song.
Counteraction was one of many singles the street-smart Riley recorded on his famed Stalag rhythm. Others being Ring The Alarm by Tenor Saw and Bam Bam by Sister Nancy, another emerging female toaster.
Though it never got as big as those songs, Counteraction opened the door for Junie Ranks who went on to do several 'slackness' songs for Riley and Lloyd "King Jammys" James. They included Gimme Di Buddy, Gun Inna Brief and Cry Fi Mi Boops.
But she also had radio-friendly hits including Sweetest Girl with Wayne Wonder and Sea of Love with John Mouse. The latter, produced by Shocking Vibes Productions, was a big hit in Canada.
However, music was not enough to pay the bills when Junie Ranks moved permanently to the United States in 1998. She became a nurse and still works in the health sector in Philadelphia where she is a grandmother to three children.
"I got so frustrated that I walk out of the business and get a nine-to-five (job). That made me so grounded, 'cause it mek mi realize that there is life after music," she said.
Junie Ranks was born June Evans in Kingston, the Jamaica capital, but grew up in Old Harbour, a bustling fishing town in rural St. Catherine parish. It was there that she got her start on sound systems, before returning to Kingston for a crack at the big time.
She was among the flood of female deejays who got their start during the early 1980s, a time when the dancehall was ruled by acts like Tenor Saw, Frankie Paul, Super Cat, Admiral Bailey, Brigadier Jerry, Josey Wales, Barrington Levy and Yellowman.
Along with Sister Nancy, Sister Charmaine, Lady Ann, Lady G and Shelly Thunder, Junie Ranks helped put the female deejay on the map. She does not believe they get their due as trailblazers.
"Di artistes nowadays never talk about di past an' we set di pace. Look pon Nancy, mi haffi give har props 'cause shi nuh stop tour," said Ranks.
Sister Nancy is one of dancehall/reggae's success stories of the last five years. Widespread sampling of Bam Bam has won her a new generation of fans including Jay Z and Junior Gong, and she tours relentlessly.
Junie Ranks is hoping for similar success. But for the time being, she is comfortable in her day job and rocking the mic whenever she gets the chance.
"Is a different time now an' yuh haffi have di will power to stand up, but mi still around helping to keep the foundation alive," she said.
Give You My Loving was released on March 4th, 2018 and is available from E2 Recordings on digital download.