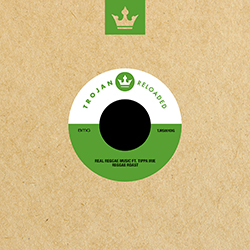 London based sound system Reggae Roast continue their relationship with Trojan's sister imprint Trojan Reloaded.
Their second single, following Murder by Charlie P and Brother Culture, features legendary South London emcee and entertainer Tippa Irie.
Real Reggae Music repositions the Sleng Teng bass-line to create a completely new dancehall/dub hybrid backing for Daddy Tip to extoll the virtues of the music he loves – praising the next generation in Jesse Royal.
The vocal comes with a flipside remix by Bristol UK bass producer DJ Madd.
"The release forms part of the 50 years of Trojan Records celebrations and the 7" will be included in the commemorative Trojan Records boxset, out on August 10th" say Reggae Roast in their press material.
Real Reggae Music is out now on 7 inch vinyl and for digital download.