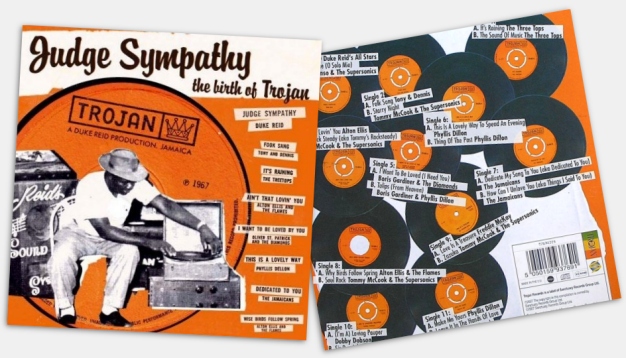 We announced few days ago the upcoming release of Horace Andy new album on Trojan records. The label specialized in reissues and compilations now releases a new box set of singles of Duke Reid productions. Judge Sympathy - The Birth of Trojan contains eleven 7'' of rocksteady produced between 1966 and 1967 by Arthur 'Duke' Reid, and originally released in UK on Trojan records, and for most of them also released in Jamaica on Reid's label, Treasure Isle.
This box set will be available on 7th of April and features tunes from pioneer actors of Jamaican music as Roland Alphonso, Tommy McCook, Alton Ellis, Phyllis Dillon, Freddie McKay or Boris Gardiner. A new release specially for vynil addicts and fans of lover tunes. Those who rather play CD could always provide all those tracks available on Duke Reid Rock Steady 1967 - The Birth Of Trojan, released in 2002.
Let's go back in the late 60's with this box of Trojan classics, a kind of tribute to the first productions of the label.