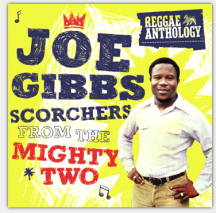 The reggae community recently learnt that Joe Gibbs, one of the most influential Jamaican producer, passed away on late February 21th. Here is Scorchers from the Mighty Two, new compilation of songs produced by Joe Gibbs and Errol Thompson aka The Mighty Two, due out on May 19th.
17 North Parade (VP records' imprint) delivers a selection of 40 classics tunes from the late 70's. Strictly roots! No need to quote some tracks of this release as there are all scorchers.
A beautiful tribute to Joe Gibbs and a good occasion for us to remember this major actor of the golden roots era.