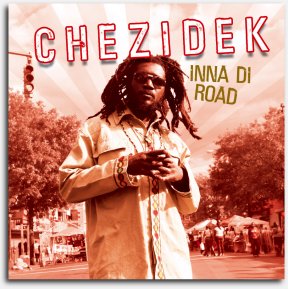 The inspirational artist known as Chezidek born Desbert Johnson of St. Ann, has completed his brand new album with producer Bobby Konders of Massive B for Greensleeves records.
The album titled Inna Di Road, is due for a early September release. The well-anticipated follow up album with his newest hits Dem A Fight We and Inna Di Road, has reminded the world of how conscious and dignified reggae music really is.
Inspiration with strong encouraging words and a higher level of meditation is what Chezidek delivers through his spiritual and musical chants. Known as the herbalist and the environmentalist, Chezidek is destined to fulfill the works of HIS majesty with words of uprightness. Remember his burning hit song Leave De Trees in 2005.
Inna Di Road is his first release on Greensleeves records but Chezidek has had 4 previous albums released -Harvest Time, Rising Sun, Mash Dem Down and Firm Up Yourself.
His 2007 tour will be set for the USA and an European tour is being scheduled to promote this new album.
Watch the video of the great tune Call Pon Dem (which will be on the CD as a bonus with the video of Inna Di Road).
Video
Video: Chezidek - Call Pon Dem (Greensleeves - 2007)