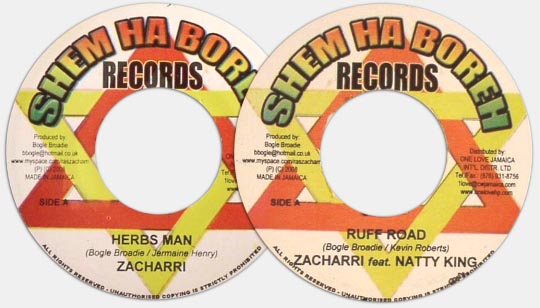 Founded in 2008, Shem Ha Boreh is a young Jamaican label specialized in roots reggae as show their two debut releases both voiced by Jamaican Zacharri. Born Bogle Broadie in 1979, this singjay grew up in Kingston. He first recorded songs under the name of Dj Bogle. His name Ras Zacharri was given to him by the famous Buju Banton. Since 2000, he released several singles for Jamaican and European labels as Foundation Sound and Roots Garden. He also collaborated with Luciano for the worldwide known song River Jordan. After a UK tour, he returned to Jamaica and began to work with Shem Ha Boreh.
Their first single, available in all good record stores, features Herbs Man by Ras Zacharri, delivering a tough ganja tune over a heavy rootsy riddim. The second 7'' comprises the conscious tune Ruff Road by Ras Zacharri and Natty King, both in top form. Note that each single includes the dub version on side B.
Two good modern roots productions out of Shem Ha Boreh studios. Hoping it's just the beginning !