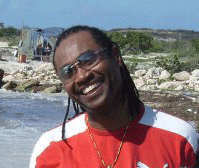 Jamaican actor and Reggae singer Peter Lloyd whose Oh My Darling claims the No.1 spot on BESS FM charts for the third consecutive week, and for the first time ever, has yet another milestone to be thankful for. He is being signed with In Touch Booking, the renowned international agency.
The elite In Touch Booking agency owns an impressive roster of entertainers including international superstars Sean Kingston, and R&B sensation Robin Thicke. CEO Marleen Turner said she is elated to have Lloyd on board "as part of the family" and, "is looking forward to a bright and prosperous partnership with the singer."
In response a humbled Lloyd declared "I am very happy to be a part of the agency, and, hope to add further prestige to the company with my wealth of experience".
LLoyd's Oh My Darling is also 3rd place on the RETV Reggae Charts countdown and No. 13 on the HITZ 92 FM Top 20 Singles Chart.
In Jamaica, Lesley Hayles of Bass Line Entertainment Services is responsible for all bookings for the artiste. So far his schedule includes Sugar Minotts' Reggae In The Hills on December 25, and Anthony B's Trelawny Family Fun Day on January 1, 2009. Lloyd is also gearing up to shoot the new season of the local hit mini-series Royal Palm Estate.
Bass Line Entertainment contributed to this article