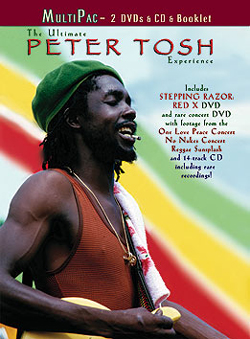 Shanachie Entertainment is back. After the release last year of The Mystic World of Augustus Pablo, it is the turn of the creator of such reggae anthems as Legalize It, and Equal Rights. The other legendary founding member of the Wailers : Peter Tosh!
The Ultimate Peter Tosh Experience features 2 DVDs with rare and classic performance footage and interviews, including the "No Nukes" concert, the "One Love Peace Concert", "The 1983 Roxy Show," and many more. It also includes the documentary film Stepping Razor: Red X, as well as a CD containing 14 classic tracks with several previously unreleased tracks and a booklet.
A great release which is scheduled for the 10th of February. Get up Stand up!