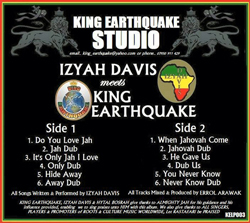 Many reggae fans think dub is dead, but the new release from King Earthquake proves otherwise.
After a set with Winston Fergus released last year, Errol Arawak from Birmingham's King Earthquake sound system linked up with the gifted roots singer Izyah Davis - from Hytal Bosrah sound - for a new showcase album.
The long awaited Izyah Davis Meets King Earthquake features 6 vocal cuts followed by their raw dub versions. From Do You Love Jah to It's Only Jah Love, from He Gave US to When Jahovah Come, Izyah Davis delivers positive and conscious lyrics over the kind of hardcore UK digi roots riddims, typical of Earthquake productions. As Izyah says : « All the songs are directed at praising the Father asking question and a positive vibe ».
This is a key and highly anticipated release for all UK dub followers Some serious stepper tunes perfect for heavyweight sound systems. Available on LP and soon on CD.