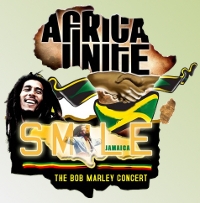 After a one year break, the annual Smile Jamaica tribute concert to Bob Marley will take place in Nine Mile, St. Ann, Jamaica, the birth place of Marley. The event will take place on Saturday, February 6, 2010 – Bob Marley's birthday, during the Jamaican Reggae Month and the Bob Marley week.
The line up is still unknown but members of the Marley family should perform as top reggae and dancehall artists.
Part proceeds from the concert will go to the Unlimited Resources Giving Enlightenment U.R.G.E. Foundation and the Ghetto Youth Foundation, the charitable arm of Ghetto Youths International founded by Bob Marley's offspring. The foundation provides support for schools and reading programs in St. Ann and Kingston. The organization has also provided assistance to hospitals and clinics to benefit children of lesser means and greater need.
More info soon, stay tuned !