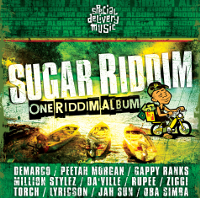 Special Delivery Music, the French label behind classic rhythms like the Judgement Time, Vision and many more, are releasing a version album for their Sugar Riddim.
A sweet soulful one drop affair, the Sugar Riddim has already spawned a hit for Lyricson with Glad You're Mine. Other artists featured on the various cuts include Demarco, Peetah Morgan and UK sensation Gappy Ranks.
The Sugar Riddim album is available for download now and in stores on December 11th.
Video
Video: Lyricson - Glad You're Mine