Mighty French based Roots Reggae imprint, Irie Ites, is at it again. The label is continuing a very strong push of one of its most recent creations, the Strange Things riddim.
This big and beautiful blast from the past is coming back twice again and it's never sounded better. Firstly, fans can look to pick up two brand new 7' singles of the Strange Things Riddim in with a Hip-Hop twist, featuring big efforts from Pressure, Cali P, Spectacular and Sena. And if that isn't enough, Irie Ites are packaging and delivering the entire original project, bigger and better than ever, with sixteen tracks featuring (on top of those already mentioned), efforts from Sizzla Kalonji, Lutan Fyah, Chezidek, label stapel Lorenzo and, of course, the man himself, the legendary John Holt.
The Hip-Hop versioned singles of the Strange Things Riddim are available on December 22nd, while the full riddim CD will be in stores in the New Year.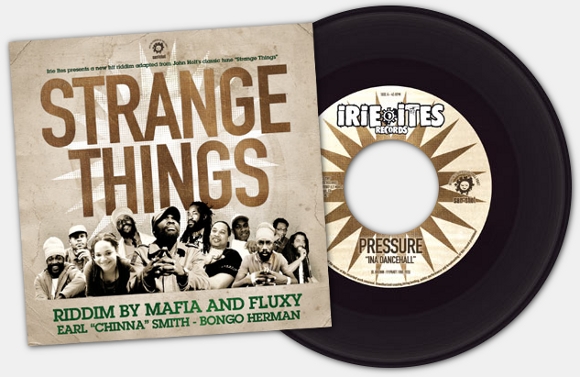 Strange Things - 1 Riddim Album tracklisting :

1. John Holt « Strange Things » - Discomix (Un-Released)
2. Junior Kelly « Shake It Woman »
3. Chezidek « Bun' Di Ganja »
4. Sizzla « Revolution »
5. Lutan Fyah « Work It Out »
6. Lorenzo « A So Dem Stay »
7. Ras Mc Bean & Sena « Travelling So »
8. Trinity « Strange All Over The World »
9. Mafia & Fluxy, Earl "Chinna" Smith, Bongo Herman « Strange Things Riddim »
10. « Strange Dub' » By Calvin "So So" Francis (Un-Released)
11. Pressure «Ina Dancehall »
12. Spectacular « Badda Than Dem »
13. Cali P «The Champion »
14. Sena « Strange Days »
15. Keefaz & Don Pako « Vendredi Soir Spécial » (Un-Released)
16. « In The Clash Tonight » - FLEX Remix (Un-Released)
Video
Video: John Holt - Strange Things