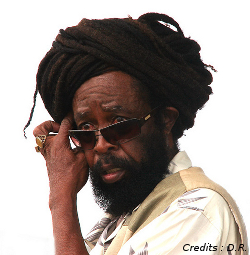 The Reggae family has lost one his veteran singer, once again. Jamaican singer David Isaacs has died at the age of 63, on December 22nd.
The Gleaner reports that Isaacs sister, Beverley Isaacs, discovered « his body early Monday morning on the floor of their home in Denham Town, west Kingston ». She told the Jamaican newspaper that « [she] was calling out to him and got no answer. When « [she] went toward his room [she] saw him on the ground ».
David Isaacs, born in Denham Town in 1946, began as a singer in the late 60's. He recorded for various producers but his first hit was his version of Stevie Wonder's A Place In The Sun in 1968 for producer Lee Perry, the same tune that gave the name of his debut album 8 years later. He then released 4 solo albums until he joined the harmonic group The Itals in 1987, when Lloyd Ricketts was sentenced to a prison term, preventing him from travelling to the United States.
Isaacs was supposed to perform on Rebel Salute in January with members of the Itals, Ronnie Davis and Lloyd Ricketts.