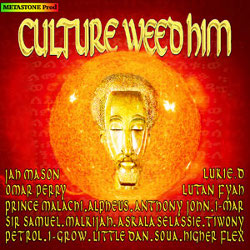 If first impressions are truly the most important, then French Caribbean label Metastone Productions is well on its way to becoming a big deal as the very first time most people heard of the label was through this outstanding one-riddim release from last year, 'Culture Weed Him'.
Obviously willing to do whatever it took for the project, Metastone has assembled a big roster of artists from across the globe for the release. There are the very familiar likes of Jamaican stars Lutan Fyah and Jah Mason on one hand, while on the other, listeners can look forward to heavy material from Gwada ace Tiwony and the devastating Malkijah from Réunion. Also on board are solid efforts from Lukie D, Omar Perry and Askala Selassie, amongst others.
The top notch 'Culture Weed Him' is currently available in stores worldwide.