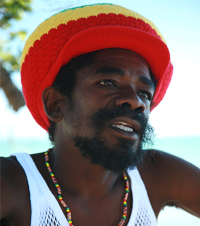 After Anthony B dancehall tune Free Up The General, Cocoa Tea comes with his own rootsy tribute to Buju Banton released on his own label Roaring Lion.
As we told you few days ago, Jamaican Buju Banton was arrested in Miami on December 10th on a charge of conspiracy to possess with intent to distribute more than five kilos of cocaine. He did not seek bail for the charge and was arraigned in court January 7 where he has pleaded not guilty.
His lawyer David Oscar Markus says Buju will not seek a plea deal and recently released a statement about his client's innocence :
"Buju is innocent - plain and simple. He was set up from the jump by some evil people trying to take advantage of his trusting and honest character. We are all looking forward to getting him out of prison so that he can move forward with his stellar music career."