British reggae's man of the moment Gappy Ranks has signed with Greensleeves and will be releasing a forthcoming new album for the label.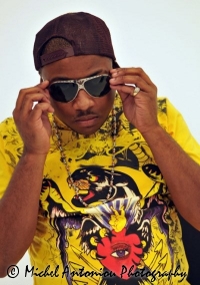 The deal was announced via the following statement on the website of VP Records (Greensleeves' parent company):
"Rising British Reggae star, Gappy Ranks, signed an exclusive publishing agreement with Greensleeves Publishing, quickly followed by a record deal with Greensleeves Records. Gappy's most recent hit "Heaven In Her Eyes" is included on VP Records' Strictly The Best Vol. 40 and on Greensleeves Records' The Biggest Reggae One-Drop Anthems 2009. He received the 2009 Crystal Blue Best Artist of the Year Award along with the Best Recording of the Year Award for "Heaven In Her Eyes." His first album, "Breakfast in Jamaica" will be released on Greensleeves Records in early 2010. The album will include "Stinkin Rich" (currently topping the UK Reggae charts), "Heaven In Her Eyes" (which has been number one for an amazing 22 weeks on the UK reggae charts), "Thanks & Praises", "Butterflies", "So god bless", "Rise out of the ghetto" and features tracks with Spice, Million Stylez among others. This is what Gappy had to say about his new deal with Greensleeves Records, "I grew up listening to albums from Greensleeves when I was a kid because my father used to collect all the Greensleeves titles and play them in the house. I always dreamed of one day having my own album being released by Greensleeves and be a part of the legends like Yellowman and other big names on their roster. It has been a hard journey and I feel proud to represent the UK in the reggae world and would like to thank Greensleeves, my management team and all the fans for supporting me in my career."
The album 'Breakfast in Jamaica' will be out in early 2010. In the meantime you can hear some samples at the top right of the page.