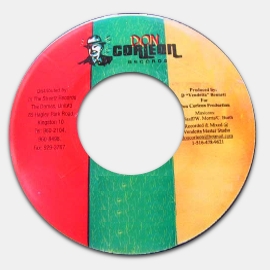 We talked about it a few days ago (Don Corleon live in the studio) and watched the voicing sessions. Now Jamaican producer Donovan 'Don Corleon' Bennett has released his new one-drop reggae riddim called Feelings.
It features regular Corleon affiliated artists such as Pressure (with whom he released the album 'Love and Affection' in 2007), Jah Cure (remember the hits Longing For and Love Is), TOK, Wayne Marshall, Tarrus Riley or Gentleman (with whom he is working on an album).
Since he had a huge hit with the Drop Leaf riddim in 2004, Don Corleon alternates dancehall riddims and smooth one-drop riddims releases (such as Seasons in 2005, Heavenly in 2006, Far Away and Love Potion in 2007, Secrets in 2008, Changes and Feminine in 2009)
The series is available for digital download on the Don Corleon website : doncorleonrecordsonline.com and will soon be available on vinyl 7" .