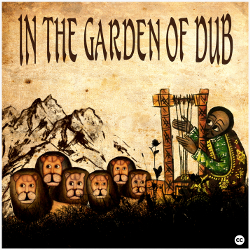 Available from the web site www.krisnaphtali.com right now is a free to download album, under the Creative Commons Licence, entitled 'In The Garden of Dub'. Although a free download they do ask that you make a donation to the Word Sound Power Collective, an organisation whose aim is to strengthen the Rastafari Elders and so helping to fulfil the Nyahbinghi Creed:
"Let the hungry be fed, the naked clothed, the sick nourished, the aged protected and the infants cared for."
The 22 track album features instrumental and dub cuts from Kris plus a collective of artists: Kirbir La Amlak (UK), Crucial Alphonso (Belgium), Jacin (France), Mark Moostec (UK), Roots Hi Tek (UK), Eastern Roots (UK), Brizion (USA), King Earthquake (UK), Dub Invasion (UK) and Massada (France).
Parts of the site are still under construction at the moment, but there is also at present an audio page with a collection of dub plate samples and soundsystem session clips.