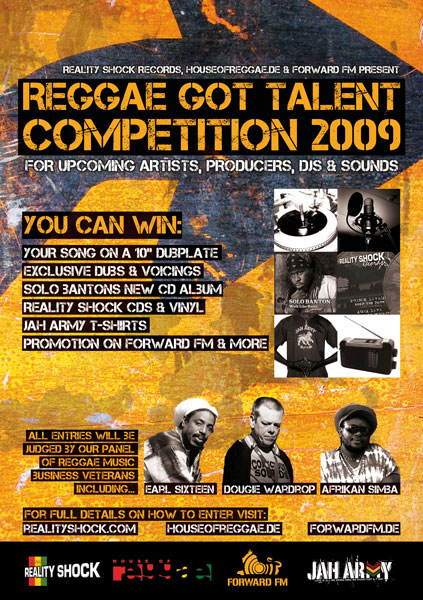 Late last year Reality Shock Records, Houseofreggae.de and Forward FM invited people to take part in the first ever Reggae Got Talent Competition. There were 3 competition categories for upcoming artists, producers and, DJ's and sounds.
All categories were asked to do something new and original with 'Old Time Something'. Artists were asked to record an original vocal on the version, while producers had to remix Solo Banton's accapella. DJ's & sounds had to record a 20 minute mix (dubplates and remixes allowed) featuring Solo Banton.
The judging panel was made up of reggae veterans including Earl 16, Afrikan Simba and Dougie Wardrop from the Bush Chemists. The process was considered to be as fair & scientific as possible with the judge's receiving the entries anonymously and independently, so that there was no chance of conferring between them and also allowing the entries to be judged on their individual musical merits (without taking in to account the artists background or experience). Each member of the judging panel then picked their top 4 and a points system was used to calculate the overall winners.
It has to be said that there is no possible way of objectively judging music and all concerned recognised that ultimately it comes down to the personal preferences of the judging panel, all of whom reportedly commented that they had great difficulty in choosing a top 4. A decision however had to be made and the winners are as follows:
REGGAE GOT TALENT ARTISTS:
Download mp3 and info about this artists
1. JUSTICE
2. DIRTY ADDI
3. DAN I LOCKS
4. DON SHARICON
REGGAE GOT TALENT PRODUCERS:
Download mp3 and info about this artists
1. RAGGATTACK
2. ROCK RADIO HERMES
3. SPEAKAH
4. LAB FREQUENCY
REGGAE GOT TALENT SOUNDS/DJS:
Download mp3 and info about this artists
1. BASS ROCK
2. SHACK-A-LACK SOUND
3. REBEL LION
4. BMC
Earl 16 commented on the competition "I am very respectful of the amount of great talent and enthusiastic people out there who love and practice Reggae music..It's hard times now for up and coming artists and producers as the music business is so competitive, so give thanks for the ones who made it to the finals of this competition..good luck to everyone involved and never give up your dreams. One Love and Jah Bless."
While Afrikan Simba had to say "I was very impressed with all the work submitted by both artists & producers. Each contestant showed competence, skill & had something unique to offer. Those I chose were the ones that I feel had that something little different that stood out to my ears. I would like to encourage all contestants to continue what they are doing because they're all bright & shining stars."