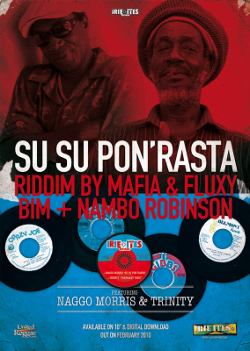 French based Roots Reggae label Irie Ites is back again ! After the recuts of John Holt' Strange Things and Mikey Dread's Roots and Culture, the crew keeps paying tribute to reggae veterans with a new 10" based on Naggo Morris roots anthem Su Su Pon Rasta - the vocal cut to Pince Far I Heavy Manners.
The riddim of Morris' Su Su Pon Rasta, originally released in 1975 on a Joe Gibbs' 7'', is revisited by the legendary UK musicians and producers Mafia & Fluxy, French guitarist Bim & Jamaican legendary trombone player Nambo Robinson.
For this new production, the crew out of France voiced Naggo Morris for a 2010 version of Su Su Pon Rasta and the Jamaican deejay Trinity (Tenemant Yard). The 10'' also features two dub cuts on the flip. Out on vinyl and for download on late March.
Big up to Irie Ites for bringing back Naggo Morris in the studio ! Dolphin "Naggo" Morris is an underrated Jamaican reggae singer best known for replacing Leroy Sibbles in the Heptones in the late 70's but he released several big tunes on his own like : Flour Power (12'' Bunny Lee), Ah True Them No Know (12'' Black Roots - early 80's), the killer steppers False Rasta (12'' S&G Records - 1982) and Jah Guide (12'' Joe Gibbs - 1980) and a great showcase album alongside Wayne Jarrett and Horace Andy (Wackies release).