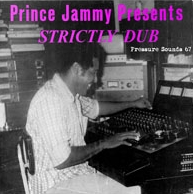 Hot on the tails of the Japanese 7inch vinyl releases from ReggaeRecord.com, Pressure Sounds have announced that they will be releasing the obscure Prince Jammy dub album 'Prince Jammy Presents Strictly Dub' on 12th April 2010, on single CD and Vinyl Album format.
The album briefly surfaced in New York in the early eighties on the 'Jammys Records' label and it has been said that many regard this album as "a minor masterpiece of Jammy's mixing style and an early demonstration of his masterful production techniques."
It was recorded with some of Kingston's best session players of the day and proved to be an early indication of the beginning of a new musical era created, paradoxically, by referring back to the classic rhythms of the sixties and seventies.
Sly & Robbie provide the backbone of the set with the trumpet of Bobby Ellis and the alto saxophone of 'Deadly' Hedley Bennett coming to the fore on tracks such as 'Old Country Road Dub' and '271 Utica Dub'.
Many classic rock steady and reggae rhythms feature including 'Baba Boom' and 'Ali Baba' from Treasure Isle, 'Always Together' from Studio One and the Baba Brooks ska classic 'Shank I Sheck' for King Edwards, with a sprinkling of original rhythms including one of Jammy's early roots masterpieces: the apocalyptic 'Jah Fire Will Be Burning' from Hugh Mundell.
The CD version comes with bonus tracks; the spare and lean re-cuts of two more Studio One classics: Jackie Mittoo's 'Hot Milk' and Lester Sterling's interpretation of Bert Kaempfert's 'Afrikaan Beat', both however date from a slightly later period.
Pressure Sounds will also be releasing three 7inch heavyweight vinyl releases, with cardboard custom printed sleeves, from Jammy. The first to be released are Attaras 'Brimstone And Fire' c/w 'Cool Fire Version' and Freddie McKay's 'Rock A Bye Woman' c/w 'Rock A Bye Version' to be released on 21st March 2010. This will then be followed by Wayne Smith 'Time Is A Moment In Space' c/w 'Dub Is A Moment In Space' in early April.