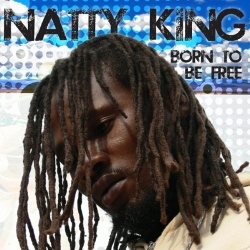 One of the most underrated and overlooked figures in all of Reggae, Jamaican singer Natty King, is set to drop 'Born To Be Free', a brand new and potentially wonderful album for solid Austrian based label, House of Riddim. The singer has apparently amassed quite the following on the European scene as evident by his constant touring of the continent, so this album is sure to be well anticipated by not only his European fans, but likewise, Natty King fans world wide.
Previously, Natty King has had his debut album, 2005's 'No Guns To Town' and returned just last year with 'Trodding', but this release just may be the highest profile and perhaps the best of his entire career to date as it has seemingly been built largely upon strong and tested singles released through Europe over the past couple of years or so. Fans can look forward to characteristically sterling vocals from the baritone-voiced Natty King, as well as combinations featuring the likes of Fantan Mojah and Louie Culture.
'Born To Be Free' is set to be released world wide via House of Riddim and DHF Records on April 16.