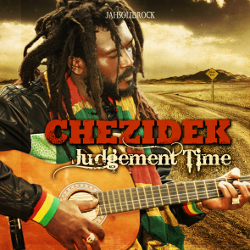 Dutch labels Not Easy At All Productions and JahSolidRock Music have come together to form a joint label of sorts which now produces arguably the largest international release from either label to date, the latest album from Jamaican Roots Reggae singer, Chezidek, 'Judgement Time'. The album which seemingly popped up from out of nowhere quite unexpectedly has apparently been in the planning for quite awhile and fans of the very uniquely voiced singer can be sure to expect more of the typically high quality vibes which he usually delivers.
JahSolidRock may not be very well known, but they did release an album, 'Tables Turn', from Benaïssa and the riveting Dutch chanter also makes an appearance on 'Judgement Time' on a tune named after the label. And while Chezidek takes the large majority of the album on his own, there's also the song On The Move, which just so happens to feature the legendary Dean Fraser featured prominently on saxophone. The album has a very rich sound as well, which may be due to reportedly quite a meticulously planned set up and instrumentation on the part of Not Easy At All.
Chezidek's 'Judgement Time', which may prove to be one of the better Reggae releases of the year arrives in stores on April 23.